Daily Inspiration
Have you ever noticed that when you smile you feel good? Or, do you believe that you have to feel good first to smile? Try smiling more and see what happens!
By

Dr. Margaret Paul
Private Phone & Skype Sessions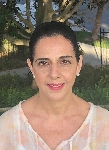 Grace Escaip
Phone & Skype sessions are available with Dr. Margaret Paul and other Inner Bonding® Facilitators.
Dr. Margaret Paul on Inner Bonding